How much do custom homes cost? Custom homes vs project homes.
Custom Homes often carry the assumption that they cost more than buying a home from a volume builder or something "off-the-plan". This is because of a number of factors including design process, custom selections, the ability to buy products in bulk and the boutique experience. However custom homes do not necessarily have to cost more than your average project home, because what building a custom home provides you with is full control over your home size, design, layout and most importantly, budget. If you are looking for a rough estimate, building a custom home in Australia usually costs between $1,500 and $3,000 per square meter but read on to discover why you have more control than you think:
Build your home, your way
The benefit of building a custom home is that you have full control. Control over your layout, control over the inclusions and most importantly, control over your budget. Project homes do not give you this level of freedom and flexibility, which in the long run can jeopardise your ability to achieve your dream home. It makes sense for you to have full control, because at the end of the day it is your home.
Plus and plus and plus
On face value, project homes can seem a lot cheaper than building a custom home. However once you get into the specifications and the inclusions of an off-the-plan home you start to realise that having small luxuries like overhead cupboards and floor coverings cost extra. By the time you have worked your way through the pre-start selections, you may find it would have been much less hassle to start with a pen and paper and design your dream home with a custom builder.
The Boutique factor
Building a custom home means your home is one of only a small few that builder is building in any given time. The boutique factor means you get better customer service, a more personal relationship with the builder and contractors involved and a greater attention to detail. However because your builder is not ordering products and finishes in bulk (like a project builder would be) you may end up paying more for the same finishes and features. This can sometimes explain price variations.
Breakdown of Costs
The price of a custom build is usually broken down into a few sections that are specific to the size and square meterage of your home. The diagram below provides a breakdown of the costs associated with a custom build home.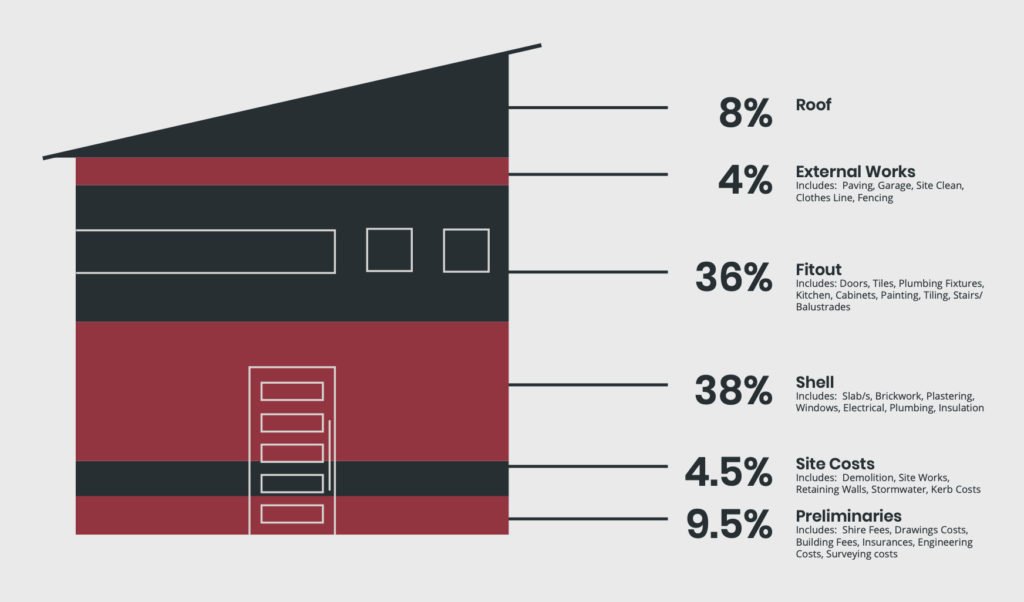 Around 65% of the costs go into the roof, external works, shell, site costs and preliminaries, these are what we consider to be "fixed" costs. However, the remaining 35% is allocated to the fit out of the home and the selections that go into things like floor coverings, fixtures, cupboards and hardware.
This 1/3 of your budget can be varied depending on your budget and the suppliers you choose. If you want to have top of the range kitchen, a spiral staircase and bifold doors – you can. But if you want to save money during the fit out, allocating more money to other areas such as new furniture, then you also have the ability to do so.
If you would like to learn more about what it takes to customise your own home then contact Glenway Homes today for an obligation free chat about your dream home.